I am grateful to the Unist'ot'en Solidarity Brigade for many of the updates I write about.
---
CALL OUT FOR KNOWN OR VOUCHED FOR SUPPORTERS AT UNIST'OT'EN CAMP

People who are known to camp or vouched for by known long term supporters who can stay for at least 2 weeks are needed at Unist'ot'en.
Unist'ot'en Camp seeks visitors who can give hands-on support and commit to working in solidarity with the camp.
Before planning your trip to the camp, please read our pages about the call to action and preparing for your visit.
Fill out this Registration Form if you fit this description and can head to camp in the near future.
---

Picket Lines are shutting down BC Government Buildings Across Victoria Now! Call for Public Employees to Join Them!
---
Wet'suwet'en Access Point on Gidimt'en Territory

Gidimt'en Media Statement
FOR IMMEDIATE RELEASE
February 12, 2020
Wet'suwet'en Camps Reoccupied, Heavy RCMP Presence is Ongoing
WET'SUWET'EN TERRITORIES – Reconciliation is dead. The events of the past week on Wet'suwet'en territories have been an extreme demonstration of colonial violence, approved in contravention of Wet'suwet'en, Canadian and international law.
RCMP arrested 28 land defenders and matriarchs during the enforcement of the interlocatory injunction approved by Justice Church, who also approved the TMX pipeline on February 4, 2020. One person, refusing to acknowledge colonial law, remains in custody and will be appearing in court on February 21st, 2020 in Prince George. Charges are pending as CGL has requested Crown intervention. The rest of the land defenders are to appear before the Supreme Court in Prince George in late April 2020.
In response to discretionary, unreasonable and unjustified police action, the BCCLA has launched a policy complaint and public interest investigation aimed at RCMP conduct. The RCMP illegally arrested people encamped outside of the injunction zone, and people hiding from officers with assault rifles off the roads mentioned in the injunction. The blatant disregard and disrespect shown by the RCMP to Wet'suwet'en, Canadian and international law is now the subject of investigation.
While the admittedly illegal exclusion zones have been lifted, there is still an extreme RCMP presence on Wet'suwet'en land. We expect them to heavily guard and facilitate CGL access to unceded territories without Free, Prior and Informed consent from the Hereditary Chiefs. The eviction notice to CGL given on January 4th, 2020 still stands and will continue to be enforced with the full power and jurisdiction under Wet'suwet'en law.
We encourage all supporters to stand strong in solidarity with this struggle. It is far from over.
Media Contact:
Jennifer Wickham
Media Coordinator for Gidim'ten Camp
(778) 210 0067
yintahaccess@gmail.com
yintahaccess.com
---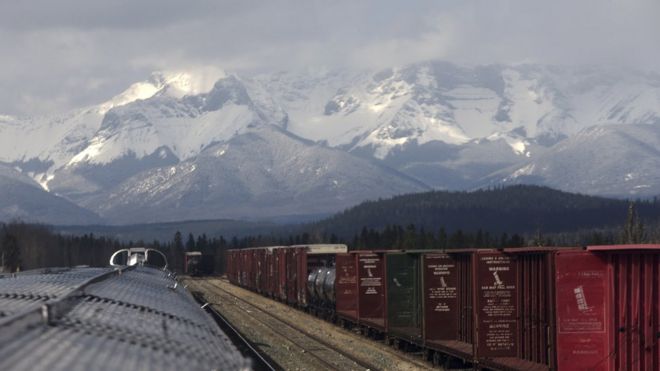 CN Rail says it will be forced to shut down its eastern network, which will effectively stop all cross-country freight trains.
The stoppage will also affect passenger trains nationwide, which use CN tracks.
More than 150 routes had been cancelled previously amid protests against the Coastal GasLink pipeline.
Blockades against the proposed pipeline, which Prime Minister Justin Trudeau's government says invigorate natural gas exports in British Columbia, began last week.
Its route cuts through indigenous Canadian land.
Some 5 million Canadian commuters use the intercity passenger services of Via Rail on tracks mostly owned by CN. Thousands have already been forced to find alternative means of travel.

Canada's CN rail system shut over blockade, BBC News, Feb 13, 2020
---
VANCOUVER — Hereditary chiefs of the Wet'suwet'en Nation are pledging to continue fighting a natural gas pipeline through their traditional territory, days after 28 of their supporters were arrested for blocking access to a work site in northern British Columbia.
Na'moks, one of five clan chiefs, said the First Nation's members and supporters should return to the land and remain peaceful.
"We're not giving in, we're home, we're looking after our home," said Na'moks, one of five Wet'suwet'en hereditary clan chiefs who assert title to a vast 22,000-square-kilometre area because they have never signed a treaty ceding their traditional territories.
'We're not giving in,' Wet'suwet'en hereditary chief says in wake of arrests. ManaimoNews, 2.12.2020
---
---
(TORONTO, ON) – The Ontario Federation of Labour (OFL) affirms its solidarity with the Wet'suwet'en Nation, as they steadfastly defend their territories, and with those who are actively supporting Indigenous sovereignty through protests and blockades across Ontario and Canada.
The recent arrests of land defenders is yet another shameful example of Canada's failure to implement the Truth and Reconciliation Commission's Calls to Action and the United Nations Declaration on the Rights of Indigenous People. The Wet'suwet'en Nation has the inherent right to self-determination, which includes the right to defend their lands. The OFL encourages the RCMP, Coastal Gaslink, and all levels of government to engage in true reconciliation – not just through words, but in meaningful actions that reflect and create a strong nation-to-nation relationship.
Government actions that continue to perpetuate Canada's ongoing legacy of colonialism and cultural genocide must stop.
Here in Ontario, the Ford government, like settler governments before them, have failed to take action towards reconciliation, even acting to reverse progress. The reality is that Indigenous peoples still do not have access to clean drinking water, shelter, and food security in this province. Further, the Conservative government has halted curriculum development for elementary and secondary students on Indigenous culture, history, and contributions; cut the Indigenous Culture Fund; and dismantled the Anti-Racism Directorate's subcommittee to combat anti-Indigenous racism, placing Ontario even further behind.
We all share a collective responsibility for reconciliation. Demonstrate your solidarity with the Wet'suwet'en Nation by joining Toronto's Family Day March on February 17 at 2pm and by signing up for updates at http://unistoten.camp/.
The Ontario Federation of Labour represents 54 unions and one million workers in Ontario. For information, visit http://www.OFL.ca and follow @OFLabour on Facebook and Twitter.

The OFL stands with the Wet'suwet'en Nation and solidarity protests across Canada
---
Solidarity Statement from Professors and Scholars in Support of the Wet'suwet'en people
UPDATE: This solidarity statement was originally sent around and signed in February 2019. But in February 2020 it started circulating again and is gaining many more new signatories in response to the RCMP raid on Wet'suwet'en territory which has happened in the past weeks. Hundreds more academics are signing daily.

WE ARE WRITING TO EXPRESS DEEP GRATITUDE TO THE WET'SUWET'EN PEOPLE who have been acting with formidable vision and strength to defend their people and territories from pipeline development, and have been facing violent incursions from RCMP and industry for doing so. They have been holding this line for years and caring for the lands and waters for countless generations. For us and for many others, the Unist´ot´en camp represents resurgence, reconnection, creativity, and relationship to the land. The long-term struggle of the Wet´suwet´en is a legitimate, legally sanctioned struggle for rights, autonomy and sovereignty on their unceded territories. These efforts benefit all Canadians. We send our deepest thanks.

WE ARE ALSO WRITING TO DENOUNCE THE ACTIONS OF THE FEDERAL GOVERNMENT, THE BC GOVERNMENT AND THE RCMP. We ask that the illegal work on Unist'ot'en territory by Coastal Gas Link be immediately stopped. We request that the federal and provincial governments respect Indigenous rights as outlined in our constitution, in countless court rulings, as well as the United Nations Declaration of the Rights of Indigenous people (UNDRIP) and 'Anuc niwh'it'en (Wet'suwet'en law). We ask that Canadian leaders and politicians stop militarization, stop communicating false or biased information, and stop dividing communities. We reject the current campaign of disinformation, particularly statements that claim that all communities have signed on to the pipeline, which disregard the very important question of disputes over jurisdiction of territories between band councils and hereditary governance. In the Delgamuukw trial, the hereditary chiefs of the Wet´suwet´en were recognized as the rightful title holders, and their underlying sovereignty over the territory was established by Canada´s highest court. We urge both federal and provincial governments to understand the crucial distinction between consultation and consent, and to act accordingly.

We firmly oppose the Trans-Canada pipeline project and other extreme energy projects being developed that are threatening Indigenous lands. According to the latest scientific evidence there is still some possibility that catastrophic climate change can be slowed or arrested, but this goal requires an immediate phase-out of fossil fuel infrastructure (Millar et al., 2017, Smith et al., 2019). And we request the Governments heed the call of scientists who have made it clear that new fossil fuel infrastructure present the source of the world's most threatening emissions, and would carry us toward dramatic increases in global temperature (Davis et al., 2010).

This applies to natural gas production and transport, because it also locks in fossil fuel use. The world needs to move straight to renewable energy sources, and as quickly as possible. Natural gas must not be seen as a transition fuel that will "bridge the gap" between high and low-carbon energy systems (Stephenson et al. 2012). Shale gas development and its related infrastructure will have very serious impacts not only on the territories of the Indigenous peoples that inhabit the province of British Columbia, but on areas of extraction in the northeast, along the territories and watersheds the pipeline will cross, and particularly on coastal communities, salmon habitat in rivers, and the remaining marine life in the Salish Sea and K̲andaliig̲wii (the Hecate Straight), that all will be impacted by increased tanker traffic.

Current governance processes have failed to adequately protect environment and treaty rights (Garvie & Shaw, 2016). To meet Canada's climate targets and Canada's commitments to reconciliation, the Canadian government needs to stop forcing gas pipelines violently through Indigenous lands.

WE ARE ALSO WRITING TO ENCOURAGE ALL CANADIANS TO ACTIVELY SUPPORT THE WET'SUWET'EN PEOPLE as they continue to demonstrate their commitment to protect their lands and waters. The most recent Intergovernmental Panel on Climate Change report has warned that we have only 12 years to meet the challenge of limiting increasing temperatures to 1.5 degrees (IPCC, 2018). Even at this historic juncture, we see no sign that our existing governments are capable of dealing with the current challenges all Canadians face. The twin crises of climate chaos and rising inequality are getting worse, not better. Research shows that substantial and swift transformation of our societies will be necessary in order to meet our climate and reconciliation goals (Scoones et al., 2015); however, our current economic and political systems are failing to heed these calls and move us towards a sustainable and just future. This is because these very economic and political systems facilitate the accumulation of wealth through the continued seizure of Indigenous land and the pillaging of the natural world. We cannot leave it to these failing systems to guide us.

What is needed is inspired visions and new systems that are able to guide us towards a much more just and sustainable future. The Wet'suwet'en people, and other communities defending their lands and waters across the world, are showing us better systems of decision making, along with better ways of living together and with the land. Our best hope for justice and sustainability in Canada lies with communities like the Wet'suwet'en nation, who take their relationship and responsibilities to their lands and waters so seriously that they will risk all they have to defend it. Our hope also lies with the many Canadians respecting and actively supporting the rights of these Indigenous communities to take care of their territories.

The Unist'ot'en camp houses a healing center, envisioned as a space to heal from the trauma suffered by so many First Nations in Canada due to colonial and extractivist violence. Projects such as the Trans-Canada pipeline perpetuate this violence. To invade this camp, to disrupt this space of healing, is particularly unconscionable. Canadians have pledged to work towards reconciliation to try to heal the injustices borne by Indigenous peoples; and this healing must also include the lands which we all inhabit. To begin to heal these relationships, the kind of violence seen recently in BC must end.

This statement was written by Dr. Jen Gobby, Dr Leah Temper, Holly Dressel, and Dr. Julia Freeman. Contact: jengobby@gmail.com

SOURCES
Davis, S. J., Caldeira, K., & Matthews, H. D. (2010). Future CO2 emissions and climate change from existing energy infrastructure. Science, 329(5997), 1330-1333.
Garvie, K.H. and Shaw, K., 2016. Shale gas development and community response: perspectives from Treaty 8 territory, British Columbia. Local Environment, 21(8), pp.1009-1028.
Millar, R.J., Fuglestvedt, J.S., Friedlingstein, P., Rogelj, J., Grubb, M.J., Matthews, H.D., Skeie, R.B., Forster, P.M., Frame, D.J. and Allen, M.R. (2017) Emission budgets and pathways consistent with limiting warming to 1.5 C. Nature Geoscience, 10(10), p.741.
Scoones, I., Leach, M., & Newell, P. (Eds.). (2015). The politics of green transformations. Routledge.
Smith, C.J., Forster, P.M., Allen, M., Fuglestvedt, J., Millar, R.J., Rogelj, J. and Zickfeld, K., (2019). Current fossil fuel infrastructure does not yet commit us to 1.5° C warming. Nature Communications, 10(1), p.101
Stephenson, E., Doukas, A. and Shaw, K., (2012). Greenwashing gas: Might a 'transition fuel' label legitimize carbon-intensive natural gas development?. Energy Policy, 46, pp.452-459.
IPCC (2018 )

Economics for the Anthropocene, REGROUNDING THE HUMAN-EARTH RELATIONSHIP. Over 4000 Professors and Scholars from across Canada and around the world sign "Statement of Solidarity with the Wet'suwet'en people of British Columbia" BY JENNIFER GOBBY FEBRUARY 11, 2020
---
Dozens of protesters rallied outside various government buildings in Victoria on Friday morning as an injunction barring people from blocking access, roadways and doors to the B.C. Legislature came into effect.
Supporters of the Wet'suwet'en hereditary chiefs who oppose the construction of the Coastal GasLink pipeline through their traditional territory in northern B.C. have pledged to disrupt government operations across the provincial capital.
Gatherings witnessed by CBC reporters at four separate locations were low key, with protesters holding signs and banners while chanting, singing and waving at passing cars.
Workers in the buildings appeared to be coming and going as normal. No protesters were seen at the legislature buildings.
The legislature injunction order was granted Thursday in B.C. Supreme Court in response to an application from Speaker of the House Darryl Plecas.
It followed a demonstration earlier this week that saw dozens of people block the entrances to the legislature.
The order gives the officers who provide security at the legislature the power to arrest and remove anyone who is "interfering, disturbing or disrupting … [the legislature's] business … and proper functioning," including on public roads.
Before the injunction was issued, activists said they would attempt to shut down the bulk of the provincial civil service for the day, but promised the protests would be peaceful.

Protesters gather in Victoria amid plans to shut down B.C. government buildings. Activists supporting Wet'suwet'en hereditary chiefs aiming to shut down bulk of B.C. civil service Friday. CBC News · Posted: Feb 14, 2020
---
From the occupied Palestinian territory, we stand in solidarity with the Wet'suwet'en nation and land defenders at the Unist'ot'en Camp and Gidimt'en who continue to resist Canada's colonial incursions of their unceded territories.
The Palestinian BDS National Committee (BNC), the largest coalition in Palestinian civil society that leads the global BDS movement, sends a message of support to your struggle.
We call on the Palestine solidarity movement in Turtle Island and elsewhere to stand with the Wet'suwet'en nation.
As Palestinians, we have firsthand experience with a colonial power, Israel's regime of occupation, colonization and apartheid, that systemically works to dispossess, divide and strip us of our lands and resources.
We know too well, from our own experience, that the TransCanada Coastal Gaslink pipeline aims to steal Wet'suwet'en land, use resource extraction to solidify control over Indigenous territories, destroy the environment and violate Indigenous laws. We also know that the Royal Canadian Mounted Police (RCMP) attacks, sanctioned by the Trudeau government, against the Hereditary Wet'suwet'en leadership, matriarchs and land defenders, are used to violate Indigenous sovereignty. The RCMP is employing tactics and equipment similar to Israel's government, including Caterpillar bulldozers, to seize indigenous lands.
We are deeply grateful for the Wet'suwet'en people for their indomitable spirit, and their tireless defence of the land and water resources. We stand firmly with you in your struggle for your land and ancestral rights.
Palestinians owe the Indigenous peoples of Turtle Island a great debt for teaching us how to resist settler colonialism generation after generation through your powerful resistance, grace and indomitable spirit.
The BNC is committed to building stronger ties of solidarity between our peoples and movements, and we will work with our partners in Turtle Island to make this a reality.
From Palestine to Wet'suwet'en, we stand united with you in the struggle against settler colonialism, racism, corporate criminality and your inalienable rights for justice and self-determination.
We would be honoured to welcome you in Palestine, when the time is right.
Palestinians stand in solidarity with the Wet'suwet'en nation. The TransCanada Coastal Gaslink pipeline aims to steal Wet'suwet'en land, use resource extraction to solidify control over Indigenous territories, destroy the environment and violate Indigenous laws, By Palestinian BDS National Committee (BNC), February 13, 2020