February 9, 2020:
Over the last 72 hours, the RCMP have invaded sovereign, unceded Wet'suwet'en territories and forcibly removed unarmed land defenders at gunpoint.
Billions of taxpayer dollars have been spent by the federal government on behalf of TC Energy, a private resource extraction corporation, to remove the people from these lands making way for their Coastal GasLink project to export fracked gas.
The strength of our resistance has made the RCMP invasion slow and difficult. The solidarity actions from around the globe have shined a light into the darkness. Canada and the fossil fuels industries can no longer operate in the shadows when committing genocide against indigneous peoples. "Reconciliation" is the smokescreen intended to further dispossess the rightful inhabitants from their ancestral territories, and now the fog has been lifted. We remain undefeated.

Here are the arrest totals from the RCMP/CGL invasion on unceded Wet'suwet'en territories over the last few days:
6 arrested at 39km, Feb 6 (released with no charges)
4 arrested at 44km, Feb 7 (court date Monday in Smithers)
11 arrested at 27km, Feb 8 (including Legal Observers)
WetsuwetenStrong #ReconciliationIsDead #alleyesonWetsuweten #shutdowncanada #unistoten #gidimten #landback

Gidimt'en Call to action: http://www.yintahaccess.com
Donate to Gidimt'en camp: https://www.gofundme.com/f/gidimt039en-strong
Wet'suwet'en Supporter Toolkit: http://unistoten.camp/supportertoolkit2020
Unist'ot'en Legal Fund: https://actionnetwork.org/fundraising/unistoten2020legalfund

https://www.facebook.com/wetsuwetenstrong/
---
Banner of the Wet'suwet'en Access Point on Gidimt'en Territory Facebook page
---
RCMP Invasion on Unist'ot'en Territory – URGENT Updates Feb 9, 202

February 9, 2020 URGENT UPDATES
5:35 pm – 9 RCMP in snowshoes at the 65 km mark near bridge. 1 person in plaid coat.
5:32 – 21 personnel in yellow vests at pullout at 65km marker.
5:29 pm – RCMP holding a piece of equipment (undetermined). Their vehicles are starting up. Unist'ot'en matriarchs dancing and singing songs under the bell.
5:25 pm – Plows retreating. RCMP preparing to advance.
5:20 pm – Road is now cleared to the bridge.
5:14 pm – 2 graders pushing through to bridge now. Plow behind.
5:07 pm – RCMP drone attempted to take out Unist'ot'en supporter drone over bridge, unsuccessful.
5:06 pm – As vehicles approach, Freda Huson is drumming over the river and calling to the forest, ancestors.
4:52 pm – 5 RCMP officers approaching on foot, 3 graders and 13+ vehicles behind that.
4:40 pm – Large plow truck at gates of Unistoten, 66km
4:25 pm – Updated tally of RCMP/CGL between 44km and 66km:
1 dump truck
3 bulldozers
1 large CAT
1 large white SUV
1 large RV
1 ambulance
6 pickup trucks (estimated)
3:41 pm – 2 CGL trucks headed down from 44km mark at Gidimt'en
2:51 pm – At least 2 unmarked RCMP pickup trucks at 44km Gidimt'en, 1 RCMP SUV, and some officers on foot.
2:26 pm – 1 unmarked RCMP SUV headed to 66km from 44km with 2 unmarked CGL work vehicles.
1:17 pm – RCMP helicopter circling very low at 66km. Matriarchs drumming.
11:39 am – 2 RCMP at 44km, came to the door of Woo's cabin asking those inside to identify themselves. Officers refused to give names or badge numbers, then left.
11 am – Black helicopter flying low overhead at 66km
9:45 am – We have reports of a large convoy of RCMP and industry working up the road from Gidimt'en toward #Unistoten. 2 bulldozers, 1 plow, 2 large cats, 1 large white RV, 1 ambulance, 7 pickups.
---
Wet'suwet'en Access Point on Gidimt'en Territory. 2.9.2020 21:00
PLEASE KEEP MAKING NOISE, AND KEEP WATCHING! THEY'RE MOVING IN… #ShutDownCanada #ReconciliationIsDead
---
Ann Hughes shared a post.
I've heard that the Port of Vancouver has gotten an injunction now…so don't know how long the Ports will be closed now.
---
Extinction Rebellion Toronto
2.9.2020
A small number of activists with Red Braid Alliance for Decolonial Solidarity held a blockade at one of Canada's busiest ports all night. They did in the face of intense police opposition.
This morning – a major union that works at the site showed up and agreed not to cross the picket line in solidarity with Wet'suwet'en.
This is a beautiful act of solidarity between workers and the indigenous community and vital to the type of coalition building that we need to combat racism, colonialism and the climate crisis.
This disruption can all stop as soon as John Horgan and Justin Trudeau live up to their campaign promises, their obligations under UNDRIP and Truth and Reconciliation and the basic principle of human decency.
Until then they can expect more disruption from communities from coast to coast.
---
Protectors of the Salish Sea is live now.
We are here in Seattle in solidarity with Unist'ot'en and the wet'suwet'en people. Join us live for a prayer walk across the street to the canadian embassy
---
One of my favourite songs that was composed in the 90's based on recent history when the Gitxsan stood up to the DFO for our fishing rights and the Wetsuweten came and stood with us during this blockade as well.
Anki Iss – also known as the Marshall's War.
We pelted the DFO with marshmallows
---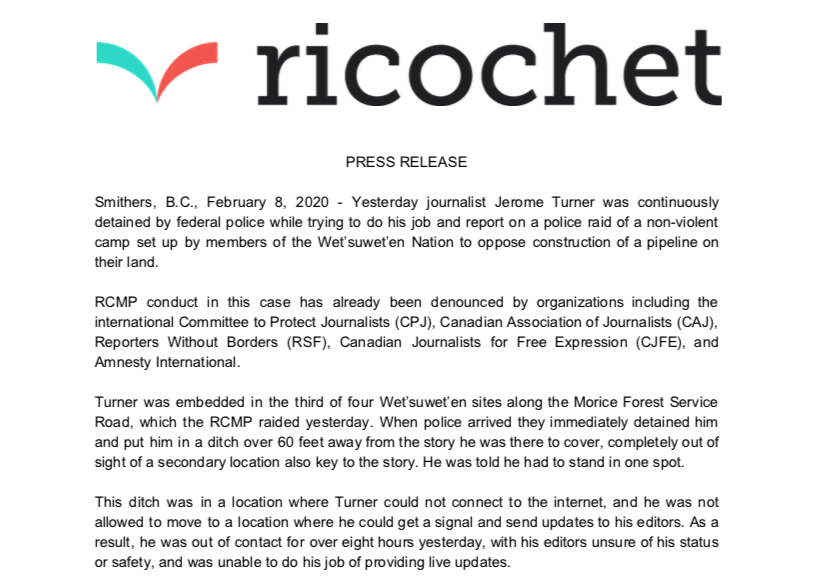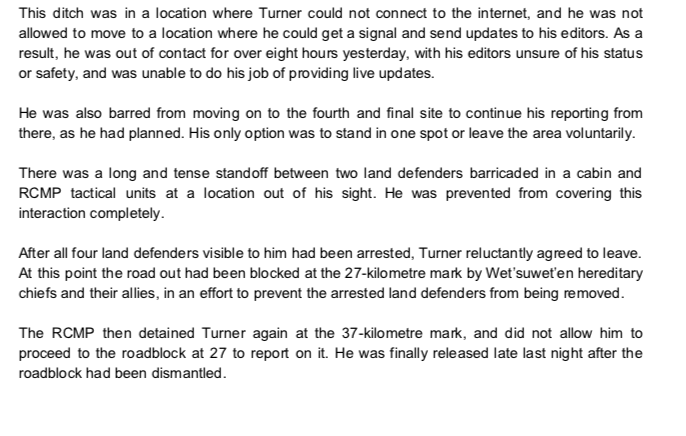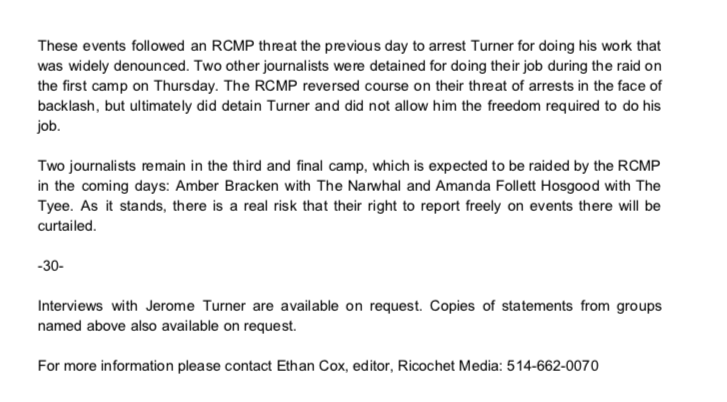 ---
Thohahènte Wakeniáthen 2.9.2020

So this morning I am at Kenhtéke at the gathering of the People by the CN rail lines. The trains are backed up and stationary in the distance. #WetsuwetenStrong
OPP are sitting in their cruiser down the road a piece and along the rail route watching no one interferes with the trains.
There are a couple of fires and spirits are high though CN Police got an Injunction yesterday to have us removed
The injunction won't be enforced by the OPP according to their Indigenous Liaison. It is not their place and not their injunction.
This injunction got raised very quickly. A contributing factor may be a strange occurrence Saturday morning at 3am. A random black car, obviously some type of undercover car with blue lights hidden behind the grille, pulled up and stopped on the rail tracks.
A guy jumped out and ran back a ways and took a picture of the car on the tracks blocking any trains that might come along. One of the People tending the fires took a photo that got picked up by local media. Maybe this picture was used to convince a judge to issue an injunction.
A picture of the mystery car is below. Who can identify this car.
Of course the truth really has little meaning when it stands between what white people and their corporations want. The reality here is the tracks are not blocked. The road is clear and local traffic is unimpeded.
The community is coming forward with firewood food clothing and volunteers to keep the fires. See the pics below.
The OPP Indigenous Liaison say their higher ups are investigating to see if laws were broken or evidence falsified to get that injunction.
News from Wet'suwet'en is slow getting here so I gave an update at the fire.
It sounds like the Gestapo have an injunction against the Gitxsan People blocking the main road in Hazelton and the RCMP are on their way to #Unistoten camp.
We are settling in for the day. APTN National News is here. Global News was told to leave our territory for being disrespectful to our People holding space here.
Kanenhariyo Seth LeFort #WetsuwetenStrong Freda Huson Lorinda Campbell Ckwe Kweradio

---
Lee Veeraraghavan
2.9.2020
SHUT DOWN CANADA.
That's not just a hashtag. Canada is a vast country with very little infrastructure where it counts. People like you and me are shutting down that infrastructure. This hurts the people who violate Indigenous rights for profit by hitting them in the wallet. We can support those who are putting their bodies on the line in this way from afar. Hold the line! Solidarity from Pittsburgh!
#shutdowncanada #wetsuwetenstrong #pizza4pipelineprotestors #reconciliationisdead

---
Day 4: RCMP continue enforcement against Wet'suwet'en over pipeline injunction. More than 20 people have been arrested since enforcement actions began.

It is day four of the RCMP's enforcement of an injunction order in northern B.C. to ensure that Coastal GasLink and its contractors can resume work in a disputed area of the pipeline route in the traditional territory of the Wet'suwet'en nation.
Since Thursday the RCMP have been moving in, kilometre-by-kilometre, camp-by-camp, down the Morice West Forest Service Road, to enforce the injunction against named Wet'suwet'en defendants and supporters.
The forest service road begins at a turn off from Highway 16 in Houston, B.C. It twists and curves, forking off in different directions and is a roadway Coastal GasLink is depending on for construction work on a $6-billion, 670-kilometre natural gas pipeline that has received approval from the province.
Twenty First Nations band councils have signed agreements in support of the project, including five of the six band councils in the Wet'suwet'en nation.
However, the Wet'suwet'en hereditary chiefs say those band councils are only responsible for the territory within their individual reserves because their authority comes only from the Indian Act. The hereditary chiefs — who are the leaders of the nation's governance system in place before the imposition of the Indian Act — assert authority over 22,000 square kilometres of the nation's traditional territory, an area recognized as unceded by the Supreme Court of Canada in a 1997 decision..

By Saturday night, police had arrested a total of 21 people. Eleven of those people were arrested on Saturday at a site referred to as the warming centre, after police announced it had become part of an expanded exclusion zone.

Day 4: RCMP continue enforcement against Wet'suwet'en over pipeline injunction. More than 20 people have been arrested since enforcement actions began. Chantelle Bellrichard · CBC · Posted: Feb 09, 2020

---
APTN National News February 5 at 5:47 PM
Fears of an RCMP raid in Wet'suwet'en territory made their way to the House of Commons Wednesday when NDP leader Jagmeet Singh asked Justin Trudeau why he hasn't met with Wet'suwet'en hereditary chiefs.
---
Candace Day Neveau was live.
❤Tiny house warriors statement ❤
Kanahus Freedom Manuel Mayuk Manuel Snutetkwe Manuel Vy Daay Candace Day Neveau
---
VANCOUVER — Around a dozen protesters blocked Deltaport in Delta, B.C. on Sunday in solidarity with Wet'suwet'en hereditary chiefs and their supporters who are opposing a gas pipeline in their territory in northern B.C.
Sunday was the fourth day of solidarity protests that targeted Metro Vancouver port terminals. Port terminals in Vancouver were also affected as protesters continued to block truck traffic, camping on-site and remaining there in tents Sunday.
The protestors at Deltaport said they would not leave until the RCMP leave Wet'suwet'en territory.

At around 4:00 p.m., protesters also occupied the intersection of Cambie and Broadway near downtown Vancouver and blocked traffic. TransLink warned passengers that multiple buses, including the 9, the 17 and the 99 B-line, had been rerouted because of the protest.
RCMP have arrested a total of 21 people as they move to enforce a court injunction that prevents Wet'suwet'en members and their supporters from blocking access to Coastal GasLink worksites in an area near Smithers, B.C.
Protest supporters are gathering today at Vancouver city hall, and Indigenous youth and supporters continue to camp overnight on the front steps of the B.C. legislature in Victoria.
VIA Rail passenger train service remained cancelled on Sunday between Toronto, Montreal and Ottawa because of protests in support of the Wet'suwet'en hereditary chiefs.

Wet'suwet'en solidarity protests continue as supporters block roads and port terminals. Jen St. Denis, CTVNewsVancouver.ca reporter @jenstden Published Sunday, February 9, 2020
---
---
Yesterday in Hazelton B.C. Railway blocked. Gitxsan and Wet'suwet'en chiefs speak after stopping CN Rail in support of Wet'suwet'en.
---