I don't know if this will end by the forced removal of the land protectors of the Wet'suwet'en territory by the Royal Canadian Mounted Police (RCMP). We can hope and pray for restraint on the part of the RCMP. But no matter how peacefully they might arrest the land protectors, it is still a stunning act of violence to yet again see the corporations steal Indigenous lands and remove the people. A legal observer said the corporations are doing the colonizing these days.
This is all the more tragic because we know the fossil fuels have to remain in the ground. If these pipelines are built, they will add fire to the burning Earth. I hope all our prayers might work as they did at Sanding Rock. At least for a while.
It saddens me so deeply to see the awesome beauty of the Wet'suwet'en territory, and to imagine that destroyed simply for greed and the continued assault on Mother Earth. It was seeing the similar beauty of the Rocky Mountains being despoiled 40 years ago that turned me into a water and land protector, though I didn't know those words then.
The following photos are from the Climate Crisis Parade held in Des Moines, Iowa, last Saturday. One sign says "Corporate Capitalism = 7th Generation Genocide". You can also see a covered wagon with Colonialism on the side, and the arrows to defeat colonialism embedded in the wagon.
As Cody Merriman says below, "This is for something greater than ourselves" . This is a part of a legacy. This is part of something that will get passed down beyond us… We're in something that's going to impact our children and who come after them. We're talking about many generations."
"And you guys helped contribute to that in a very meaningful and impactful and lasting way. And it's not over."
There are links below for ways to support the people. And please offer up your prayers.
---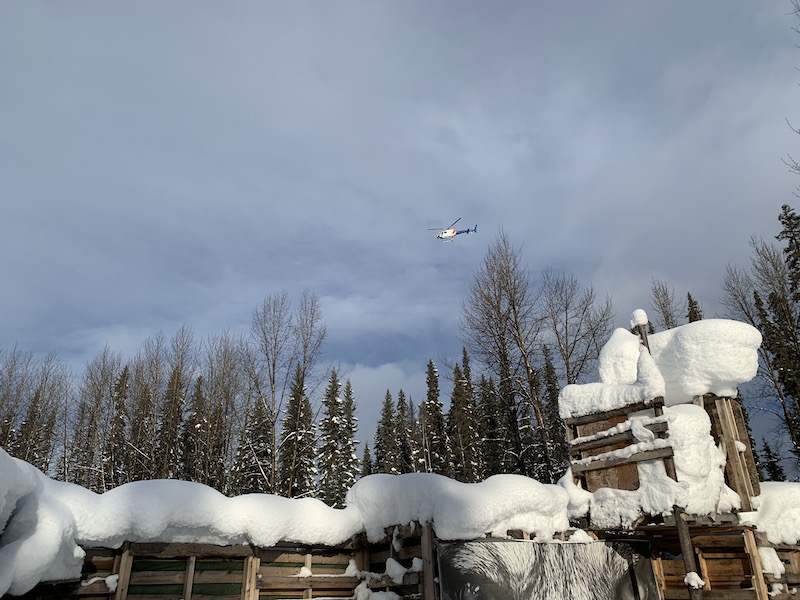 At 5 p.m., a grader had begun clearing the road to the camp, one of four set up by the Wet'suwet'en and allies along the forest road about 60 kilometres south of Smithers, which campers took as a sign of imminent police action.
Molly Wickham, governance director for the office of the hereditary chiefs, breaks the news to supporters gathered around the fire.
"We knew that the province wasn't coming to the table. They weren't ever trying to resolve the issue, they were just trying to get us to give up and let them come in," she says. "Tomorrow might be the day."
Sitting by the fire, Molly's partner, Cody Merriman, gives a powerful speech.
"This is for something greater than ourselves," he says. "This is a part of a legacy. This is part of something that will get passed down beyond us… We're in something that's going to impact our children and who come after them. We're talking about many generations."
"And you guys helped contribute to that in a very meaningful and impactful and lasting way," Merriman says. "And it's not over."
"I know everyone's tired, we all are, but we've just got to dig a little bit deeper," he said. "Whatever comes, comes. And it's coming. But we're going to be ready."
'Each Moment Here Is a Victory': Wet'suwet'en Supporters Aren't Backing Down
Molly Wickham anoints each of them with medicine for protection.

On the Ground: Wet'suwet'en Pipeline Opponents Bracing for RCMP Action. RCMP says it's prepared to move in, but campers remain defiant: 'Canada's laws don't apply here.' by Amanda Follett Hosgood, The Tyee, 2/5/2020
---
Update: Talks have broken down. The enforcement of the injunction zone is imminent.
https://twitter.com/smogelgem/status/1224903472526397440

Share widely!

An autonomous group of concerned individuals are establishing a plan for a local action in Kingston in the event the RCMP attempt to remove Wet'suwet'en from their territory.
While a week of talks have been declared between Hereditary Chiefs and the BC government and the RCMP has stated they will "stand down", local community halls have been filled with police in the same way they did last year before the raid that took place on January 9, 2019.
This development is deeply concerning and comes at the same time that RCMP are stepping up their harassment of the Gitdimt'en camps at 27 km and 39 km, despite Wet'suwet'en hereditary chiefs and their allies filing formal complaints against the RCMP last week.
Helicopter and airplane surveillance from the RCMP and private security has also intensified while local companies have refused to fly for the Wet'suwet'en after being warned by the RCMP.
The fact that the Province is mobilizing militarized police while opening "de-escalation talks" is a clear intimidation tactic and speaks to their lack of integrity.
Politicians like Horgan and Trudeau like to talk about reconciliation but Canada is willing to use violence as soon as Indigenous people stop going along with business as usual.
If business as usual means violence against Indigenous people then we have a responsibility to disrupt business as usual.
The response to an initial attempt at moving on the camps is crucial. The government, RCMP, and CGL must know that carrying out a raid on the Wet'suwet'en will have serious consequences.

—- The time is now! Be ready to act! —-

An autonomous group of concerned individuals are establishing a plan for a local action in Kingston in the event the RCMP attempt to remove Wet'suwet'en from their territory.
We will be meeting at Skeleton Park on one of the days immediately following any raids.
Follow Defend Unistoten Katarokwi (https://www.facebook.com/decline9) to receive updates about the local meet-up.
Organize your friends and family. Find other people willing to attend the meet-up with you. Make a plan for how you will get in touch with each other on short notice and how you will get yourselves to the park for the meet up.
Make signs and banners!
Create chants, costumes and songs!
Be ready to act!
Monitor the situation on the front lines by following….
Gitdimt'en Yintah Access (https://www.instagram.com/gidimten_checkpoint/ and https://www.facebook.com/wetsuwetenstrong/)
as well as…
Unist'ot'en Healing Centre (https://twitter.com/unistotencamp and https://www.facebook.com/unistoten)
DONATE:
https://www.yintahaccess.com/becomeadonor
http://unistoten.camp/support-us/donate/
---
The B.C. RCMP say they are ready to enforce an injunction order against protesters of the Coastal GasLink pipeline —and urge protesters to leave the area or face arrest.
"If there are arrests to be made there are peaceful options that will require minimal use of force," said Assistant Commissioner Eric Stubbs, criminal operations officer for the B.C. RCMP.
Stubbs said officers are instructed to use the least amount of force that is reasonable to safely arrest a protester. He said Mounties prefer peaceful options, including voluntary arrests or physically carrying away someone who isn't resisting.
But Stubbs stressed that injunction orders are mandatory, "not optional invitations or suggestions" for everyone involved.
"Police are not at liberty to choose which orders to follow," Stubbs told reporters at a press conference Wednesday.
The talks unfolded against the backdrop of looming RCMP enforcement of the injunction, which was issued at the end of December.
Hereditary chief Woos released a video statement Wednesday, objecting to the RCMP's presence and saying the Wet'suwet'en are being framed as the "bad guys" in the current situation.
"We're not safe at all and their presence is not trusted at all, not one bit," he said. "We are not convinced that this is going to go peacefully."
The injunction prohibits ongoing physical obstructions along a snowy forest road in the heart of Wet'suwet'en territory that were put up to stop workers from accessing the pipeline construction site.
The company says it plans to resume construction on the pipeline in the coming days.

RCMP urge Coastal GasLink pipeline protesters to leave disputed area or face arrest. Police say they will enforce injunction order with minimum use of force. CBC News · Posted: Feb 05, 2020
---