BREAKING: Arrests are being made now at the Unist'ot'en camp.
RCMP have now surrounded the Unist'ot'en Village.
Tactical units have been dropped by Helicopter on top of the hill above the village, and have been seen pointing guns at the healing centre.
Live updates are being posted here
And Live streaming is happening on the camp facebook page
PLEASE SHARE THE LIVE STREAMS!
10:41 am – RCMP using K9 units on unarmed indigenous women on behalf of CGL/TC Energy. 4 arrests total so far.
9:55 am – Legal observers heard RCMP planning on running dogs towards gate
9:51 – RCMP Officer appears to have tripped over one of the red dresses.
9:48 am – reports that Transport Canada is not aware of any airspace restriction.
9:45 am – DLT interrupting ceremony to try and talk to Freda. Masked cops with sunglasses, filming. Low flying helicopter.
9:44 – Unist'ot'en Facebook account livestreaming raid now.
9:38 am – 11 tactical at end of driveway of Healing Centre, 7 on hill. 2 canine units. DLTs hovering around ceremonial bell structure filming.
9:32 am – Several assault rifles spotted pointed at Healing Centre. K9 units. Sounds cannons. Handguns.
9:17 am – 4th helicopter landed and took off at top of hill. 3 RCMP total at the top of hill. 2 north side, 1 south.
9:14 – Total 3 black helicopters at the top of hill
9:13 am – RCMP approaching water in snowshoes, assessing bridge, using binoculars. Another helicopter dropped down and went back up.
9:11 am – More RCMP officers crouching behind snowbank, hiding from view. 2 high visibility and one in red plaid. 2 helicopter dropoffs at the top of the hill so far.
9:09 am – Ravens flying above the officers. They are Oyate, Karla Tait's daughter, in spirit form. She told us they would be with us. She is 5 years old Unist'ot'en.
STAY IN THE STREETS
Find or organize an action to join near you:
INTERNATIONAL SOLIDARITY: THE TIME IS NOW ALL OUT FOR WET'SUWET'EN
Many actions are being added to the discussion section of the page above now!
Wet'suwet'en and supporters are gathering at 27 KM on Morice Forest Service Road
Over 30 people were arrested at the Port of Vancouver last night and there is a call out to reconvene at the VANDU office (380 East Hastings) at 1 PM
As far as we know the Rail Blockade in New Hazelton is still going.
At least 3 new Rail Blockades have gone up at 6 nations, Listuguj Mi'gmaq, and Montreal
People have shut down the Comox Valley Highway in both directions
Government offices and banks are being shut down!
GET ON THE PHONE
Call your friends and neighbors to join an action, and take 10 minutes to call government officials and let them know how you feel!
This link will let you call all BC MP's via an auto dialer:
Call BC Government Officials!
---
February 10, 2020. 8:52 am:
RCMP are climbing the snow towards gate entrance, telling all present they will be arrested and face civil or criminal contempt. Matriarchs are calling the ancestors. There are only women here besides one male media and one male indigenous supporter.
#AllEyesOnUnistoten #AllEyesOnWetsuweten #WetsuwetenStrong #ReconciliationIsDead #shutdowncanada #unistoten #landback #thetimeisnow

---
Written earlier today:

Not surprisingly the events in solidarity with the Wet'suwet'en peoples are raising up the diverse dangers of colonial capitalism and an extractive, fossil fuel based society.

In several postings there a pictures of red dresses. If you're not familiar, they represent the epidemic of Missing and Murdered Indigenous Women (MMIW). This happens when "man camps" of workers on pipelines prey on Native women. Part of the problem is tribal police haven't had jurisdiction over White men who commit crimes on Native lands.

A post below strikes at the financial institutions the greatly profit by funding fossil fuel projects. Divestment from banks the fund fossil fuel projects has been a global phenomenon for years.

In 2016 a group of Native and nonnative people marched to the CHASE and PNC banks in downtown Indianapolis, Indiana, USA, and stood in silence as people with accounts went inside to close them. Among us $110,000 was withdrawn on that single day.

Other oppressed peoples stand in solidarity. There is a post about Muslims supporting the Wet'suwet'en peoples.
---
JP Morgan wants us to leave?!
Wet'su'weten WANT JP Morgan off their land!!!
Occupying office at Wellington and Bay RIGHT NOW. Solidarity Rally TMR
RCMP REACHED THE BRIDGE @ 66 KMS YESTERDAY, THEY ARE RETURNING TODAY.
WE WILL NOT STOP UNTIL THEY ARE OFF INDIGENOUS LANDS 
#cantstopwontstop
#wetsuwetenstrong
#freeevesaint
#shameoncanada
#nopipelinesnotankers
#nopipelinesnoproblem
#alleyesonwetsuweten
---
There's a significant traffic backup on the Inland Island Highway this morning.
The Comox Valley RCMP has confirmed protests in support of the Wet'suwet'en are happening.
One is on Highway 19 southbound between Minto Road and Comox Valley Parkway. The ramp has been closed and a detour is in place.
The other is on Highway 19 northbound between Buckley Bay Road and Van West Logging Road 15 km south of Cumberland. A detour is in place there as well.
The RCMP was not able to say how long the protests are expected to last this morning. We'll have more details as they become available.
Last Thursday, the RCMP began enforcing a court injunction and arresting Wet'suwet'en protesters opposed to the Coastal GasLink project in northern British Columbia.

Protest supporting Wet'suwet'en blocking Inland Island Highway by Patrick Grapes, staff, MyComoxValleyNow, Monday, Feb. 10th, 2020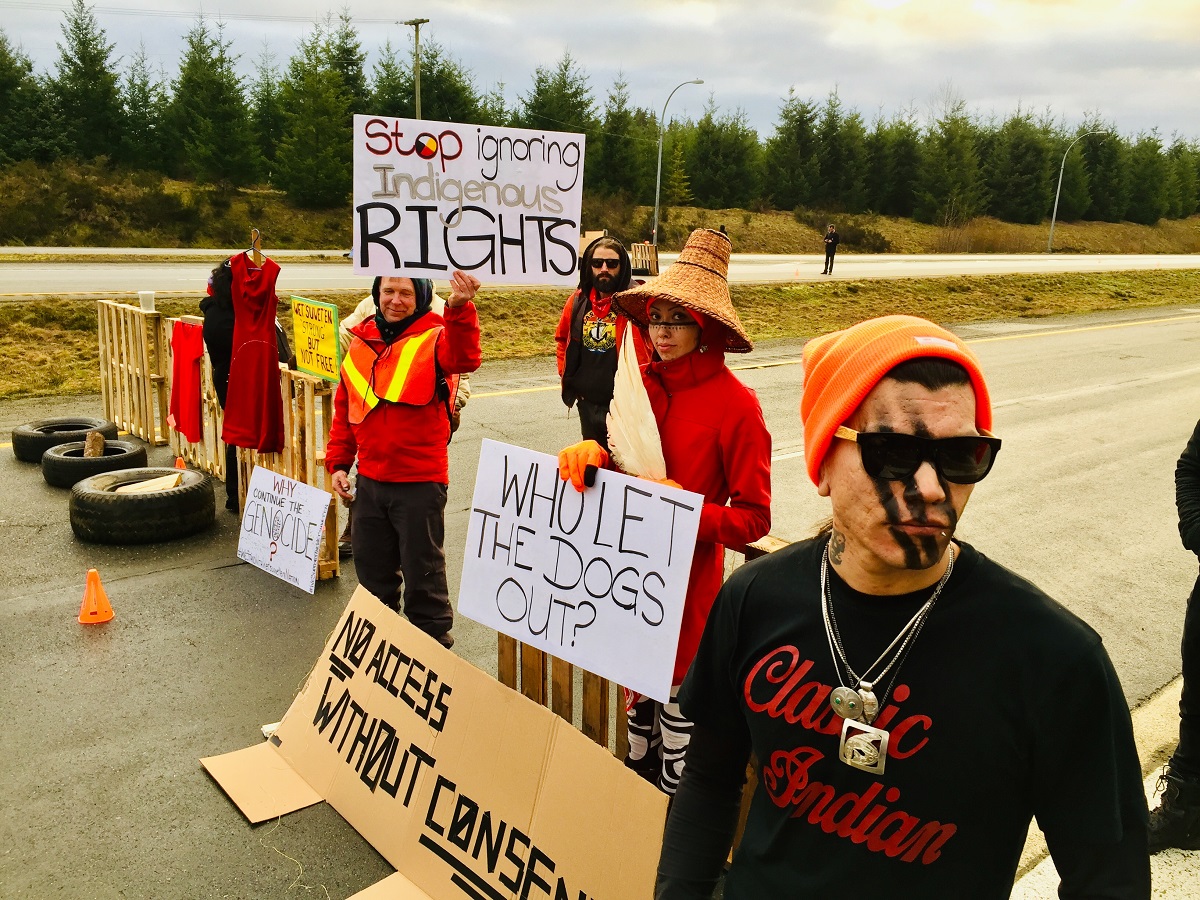 ---
Hira Rashid, 2.10.2020

If you're a Muslim and you're pro Palestine, you need to get out and support the Wet'suwet'en nation!
We need more Muslims standing up for justice! Just like our Palestinian family, our Wet'suwet'en family's land is being illegally trespassed and the RCMP is arresting land protectors and warriors. This is not a joke. This is not reconciliation. When Indigenous people say you cannot come onto our land, the government has to listen and respect that! This is not our land. We are colonizers and settlers!
handsoffwetsuweten #injusticeisharam #alleyesonwetsuweten #rcmpstanddown

(Ty to Amal and Ayesha for the sign)