"We make conscious decisions to either sit back and watch, or stand up and be heard.
We make choices as to whether protect our future generations, or we allow for a destitute future for them.
We make choices as to enter the uncomfortable place of change & movement, or we continue on this downward spiral.
What will your choice be?
Will you sit back and allow for human rights violations to occur, or will you #RiseUp with us?"

Wet'suwete'n Access Point at Gidemt'en Facebook Page
---
It is so inspiring to see people #RiseUp to support the Wet'suwet'en peoples and against the invasion of their lands by the Royal Canadian Mounted Police (RCMP). Inspiring to see the Wet'suwet'en people peacefully confronting those who want to destroy the lands with so much beauty for a pipeline that should not be built. Fossil fuel must be kept in the ground. Especially inspiring to see the leadership of young people, Indigenous young people. We have a sense that it might be possible, for a change, to stop this pipeline. We did it before, at least so far, with the Keystone XL Pipeline. And we can do it again.
We didn't think many people would join us at our vigil in Des Moines, Iowa. But we know it is not the number of people, just that there are people publicly supporting the Wet'suwet'en. You never know what the people driving past us might think or do. A sign displaying simply "Wet'suwet'en" might make some curious enough to look into this. Raising awareness and supporting each other is good. Each of us at the vigil drew strength from each other. As it says above, "what will your choice be?" Will you gather with a few friends and your signs to stand on a street corner in your town?
---
Following is a summary of just a few of the acts of solidarity with the Wet'suwet'en.
---
VIDEO: Four arrested in northern B.C. as RCMP continues to enforce pipeline court order. Wet'suwet'en member says Mounties removed gates at Gidimt'en checkpoint by TREVOR HEWITT, Burns Lake Lakes District News, Feb. 7, 202
At least four people were arrested on the second day of the RCMP's enforcement of a court order related to the Coastal GasLink natural gas pipeline near Houston.
Gidimt'en clan member and media spokesperson Jen Wickham says two protesters were taken into custody as Mounties removed the gates at the Gidimt'en checkpoint on the Morice West Forest Service Road early Friday afternoon.
In a video posted by demonstrator Anne Spice, a number of RCMP officers in tactical gear are seen, some carrying assault rifles.
---
Powerful video:
https://www.facebook.com/watchparty/1113286325729922/?entry_source=GROUP_FEED
---
Skiy'ze Dylan Naziel speaking at Vancouver rally 2.7.2020 ❤️ Made me smile so hard, tear up and my heart burst with pride. My son was raised well. Thank you for speaking to important issues Dylan!! You're full on rock star in my eyes.
---
RCMP officers have arrested four people as they moved to remove a second Wet'suwet'en camp opposing a gas pipeline on the nation's traditional territories.
More than 40 officers arrived at the Gidimt'en camp at kilometre 44 on the Morice West Forest Service Road in two helicopters and a dozen police vehicles this morning, according to radio messages to the Unist'ot'en Healing Centre at kilometre 66, where The Tyee is monitoring developments.
People at the Gidimt'en camp said the RCMP force included tactical squad officers armed with rifles.
RCMP used bulldozers to clear snow and obstacles from the road. They then used chainsaws and an excavator to remove a metal gate and wooden barricades blocking access to the camp and entered shortly after noon.
But RCMP efforts to arrest the campers quickly hit barriers, with supporters in the camp spread between a cabin, a school bus and a 10-metre-high lookout tower.
Officers initially arrested two people in the school bus. They then used ladders to climb the tower, which had been built over the bus, and removed two people from the lookout using ropes and harnesses.
"It seems like it's the last transmission that we're going to hear from the tower," a supporter in the cabin radioed as the third and fourth arrests were made.
RCMP remained outside the cabin at publication. Pipeline opponents say occupying the cabin does not breach a Dec. 31 injunction barring anyone from obstructing Coastal GasLink pipeline company access to its worksites on traditional Wet'suwet'en territory. Police have told them to leave or face criminal charges of obstruction.
The police face more hurdles as darkness sets in. According to the Twitter feed of the Unist'ot'en camp, more than 20 Wet'suwet'en and supporter vehicles have gathered at kilometre 27, where the RCMP have a checkpoint. The vehicles are "effectively blockading the exit route" police need to leave the territory with those who have been arrested.
"They're holding a ceremony and ensuring the safety of those arrested," the camp said on Twitter.

Armed RCMP Launch Raid on Second Wet'suwet'en Camp Supported by Helicopters, Police Dogs. Blockade set up to prevent police leaving territory with those arrested. Amanda Follett Hosgood Feb. 7, 2020,| TheTyee.ca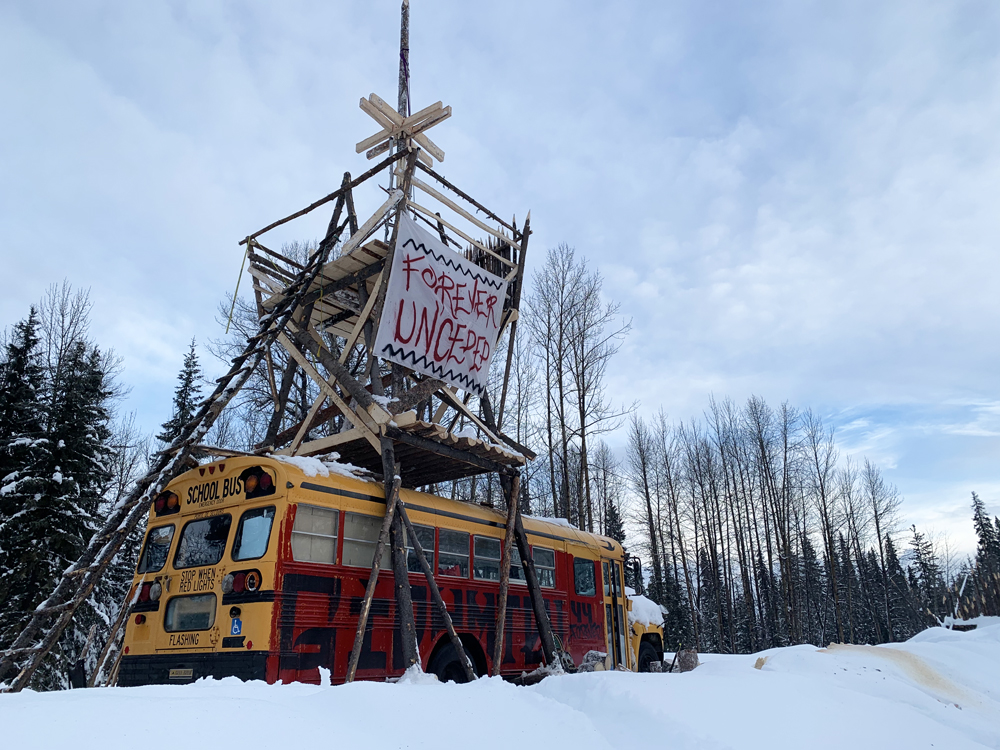 ---
---
---
"Dogs were used, media was banned from filming arrests. Militarised police with night vision and automatic weapons raided the camp in the dead of night," the group said on its website.
The raid was condemned by rights groups, including the Union of British Columbia Indian Chiefs, an Indigenous advocacy group, which accused the RCMP of engaging in "senseless violence".
"We are in absolute outrage and a state of painful anguish as we witness the Wet'suwet'en people having their title and rights brutally trampled on and their right to self-determination denied," Grand Chief Stewart Phillip said in a statement.
"Indigenous rights are human rights and they cannot be ignored or sidestepped for any reason in the world, and certainly not for an economic interest."

Canada police begin clearing Wet'suwet'en land defender camps. Wet'suwet'en Nation leaders say they never consented to Coastal GasLink pipeline project in British Columbia.by Jillian Kestler-D'Amours, Aljazeera, 6 Feb 2020
---
---
Hi, I propose that we all check-in on Fb at Unistoten – as we did back in 2016 to support the indigenous people from North Dakota (Standing Rock). The movement had attracted medias attention and over a million people answered the call of solidarity. What do you think ?
---
---
---
A protest east of Belleville has shut down VIA Rail service between Toronto and Ottawa and Toronto and Montreal.

Joshua Freeman, CP24.com
Published Friday, February 7, 2020 10:45AM EST

At around 9:20 a.m., VIA Rail said the protest on the CN railway tracks at Marysville has led to a number of cancellations.
The protesters are showing support for the Wet'suwet'en First Nation in northern British Columbia. Six people were recently arrested near a worksite as the RCMP enforced an injunction against the Nation's hereditary chiefs and their supporters, who are opposing the Coastal GasLink pipeline.
"Due to the protesters currently blocking tracks near Belleville, Ontario, train service between Montreal and Toronto and between Ottawa and Toronto is affected in both directions," the company said on its website. "None of the trains on these two routes will operate until the issue is resolved."
On Twitter, the company listed trains 651, 41, 43, 50, 52, 60, 61, 62, 63 as having been cancelled Friday and said that train 51 would operate between Montreal and Ottawa, but would not travel between Ottawa and Toronto.
---
---
---
---
---
Protesters in support of Wet'suwet'en hereditary chiefs' opposition to a natural gas pipeline in northern B.C. took to the streets of Victoria Friday morning.
Then on Friday afternoon, a group of around 20 activists started a sit-in in the lobby of the RBC Bank on Douglas Street and are blocking entry.
The group in the morning gathered at Centennial Square at around 8 a.m. before parading out onto Douglas Street, blocking traffic in the southbound direction.
The protest caused some traffic delays as the group made their way down Douglas en route to the B.C. legislature.
Just after 11 a.m., Victoria police said Douglas Street would be closed at Fort Street while protesters moved to that location. Douglas Street at Belleville Street is now open.

Activists supporting Wet'suwet'en block Victoria traffic, occupy RBC branch downtown, CHECK News, February 7th, 2020
---
We rallied today in solidarity with the Wet'suwet'en at the Canadian Consulate in so-called San Francisco on Ohlone territories. More than forty people came out to express their solidarity with the Wet'suwet'en and to commit to supporting this struggle. International solidarity.

---
#wetsuwetenstrong #RiseUp